AOKI, Reiko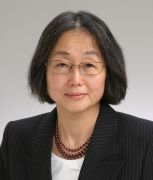 Professor / U.S., European and Russian
Economies, Center for Intergenerational Studies
Specialization: Industrial Organization, Applied Microeconomics

Education
| | |
| --- | --- |
| 1981 | B.S. (Mathematics) University of Tokyo |
| 1983 | M.A. (Economics) University of Tsukuba |
| 1986 | M.S. (Statistics) Stanford University |
| 1987 | Ph.D. (Economics) Stanford University |
Positions held
| | |
| --- | --- |
| 1987 | Assistant Professor, The Ohio State University |
| 1990 | Assistant Professor, State University of New York |
| 1997 | Senior Lecturer, University of Auckland |
| 2002 | Associate Professor, Institute of Economic Research, Hitotsubashi University |
| 2005 | Senior Lecturer, University of Auckland |
| 2005 | Associate Professor, University of Auckland |
| 2006-2014 | Professor, Institute of Economic Research, Hitotsubashi University |
| 1992-1993 | Visiting Scholar, Institute for Social and Economic Research, Osaka University |
| 1995-1996 | Visiting Lecturer, Ben-Gurion University |
| 1995-1996 | Visiting Lecturer, Tel-Aviv University |
| 2000 | Visiting Scholar, Institute of Intellectual Property, Tokyo |
| 2002 | Visiting Scholar, Center for International Research on the Japanese Economy, Faculty of Economics, University of Tokyo |
| | |
| April 2007-March 2009 | Member of the Education and Research Council, Hitotsubashi University |
| March 2009-January 2014 | Member, Council of Science and Technology Policy |
| April 2014- | Director, University Library and Assistant to the President for the University Library, Hitotsubashi University |
Positions held
My past research has largely focused on three areas. The first is the patent race and, in particular, the effect of uncertainty, asymmetrical information, etc., on firms' R&D investment. The second area is patent law and economics, including aspects such as: (a) the impact of the patent system on R&D investment, taking into account that under imperfect patent protection the extent of effective protection depends on the legal system and firms' behavior; (b) the effect of public disclosure systems in Japan, the United States, and Europe on patent applications, public information content, and R&D investment; (c) the effect of the utility requirement on R&D investment; and (d) the relationship between firms' strategies with regard to patent licensing and litigation on the one hand and investment behavior on the other. Finally, the third research area I have concentrated on is product differentiation, including an analysis of the timing of product development investmen for vertical product differentiation and the resulting welfare implications through game theory. In addition, I have conducted a theoretical comparison of the patent systems and technology development in Japan and the United States.
Current research projects
Current research projects cover the following topics: (1) Patent pools as an effective use of patents. This research examines the requirements for patent pool formation and mechanisms for the distribution of profits in order to guarantee the stability of patent pools. In addition, the effect on next-generation R&D investment is analyzed. (2) The utilization of upstream technology. This research investigates the relationship between measures to promote basic technology, such as research and experimentation exemptions and industry cooperation, on the one hand and commercialization and applied R&D on the other. Instead of patent pools, alternative systems for the efficient use of technology, such as technology exchanges or clearinghouses, and their impact on the speed of technological development, are considered. (3) Economic analysis of the declining birth rate in Japan. This research examines the economic impact of the declining birthrate by take into account factors such as the network effects of childrearing. Moreover, the research looks into why policies to date have failed to stop the decline in the birth rate and analyzes resulting future changes in the labor market and trade patterns and makes policy recommendations.
◎Keywords
patents, licenses, innovation, technology development, patent pools, product differentiation, applied game theory